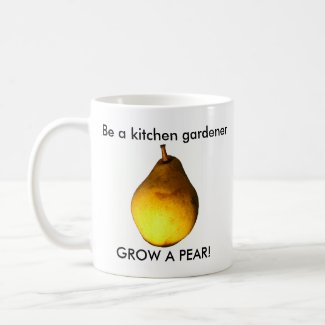 Be a kitchen gardener…
by
cityslipper
View other
Garden Mugs
I got a little silly in December and designed a coffee mug that expresses an off-color play-on-words. The design is gardening-related, and came to mind, I'm sure, because I planted pear trees in my home kitchen garden in Autumn of 2008 and enjoyed watching them grow in 2009.
Of course, when I published the mug's design on Zazzle.com, Zazzle suggested several similar products that might also interest me… all designed around the same play-on-words. The lesson? You don't need a particularly great mind to think alike.
That said, here's what I designed. I hope you like it enough to buy one for yourself… or to buy as a gag gift for a gardening friend. If just 50,000 people buy this mug in the next 365 days, my wife might forgive me for having designed it in the first place.